Resources
article
Why Mobile Optimization May Not Be Enough
---
Online mobile retail is revolutionizing the way consumers shop. But with mobile commerce adoption rates and mobile purchases steadily climbing, are merchants doing enough to meet their customers' evolving needs?
Over the last year, all over the world, mobile retail has made giant strides forward. Just take a look at this past holiday season. In the United States on Cyber Monday 2017, nearly 48% of retail site visits came from a mobile device and smartphone revenue grew by almost 40% YOY to account for 24% of the day's record-breaking sales.1 Meanwhile, according to PayPal's mCommerce Index 2017,2 online mobile sales in Australia are up 46% YOY, and in Latin America mobile transactions increased by 32%, marketing company Criteo reports.3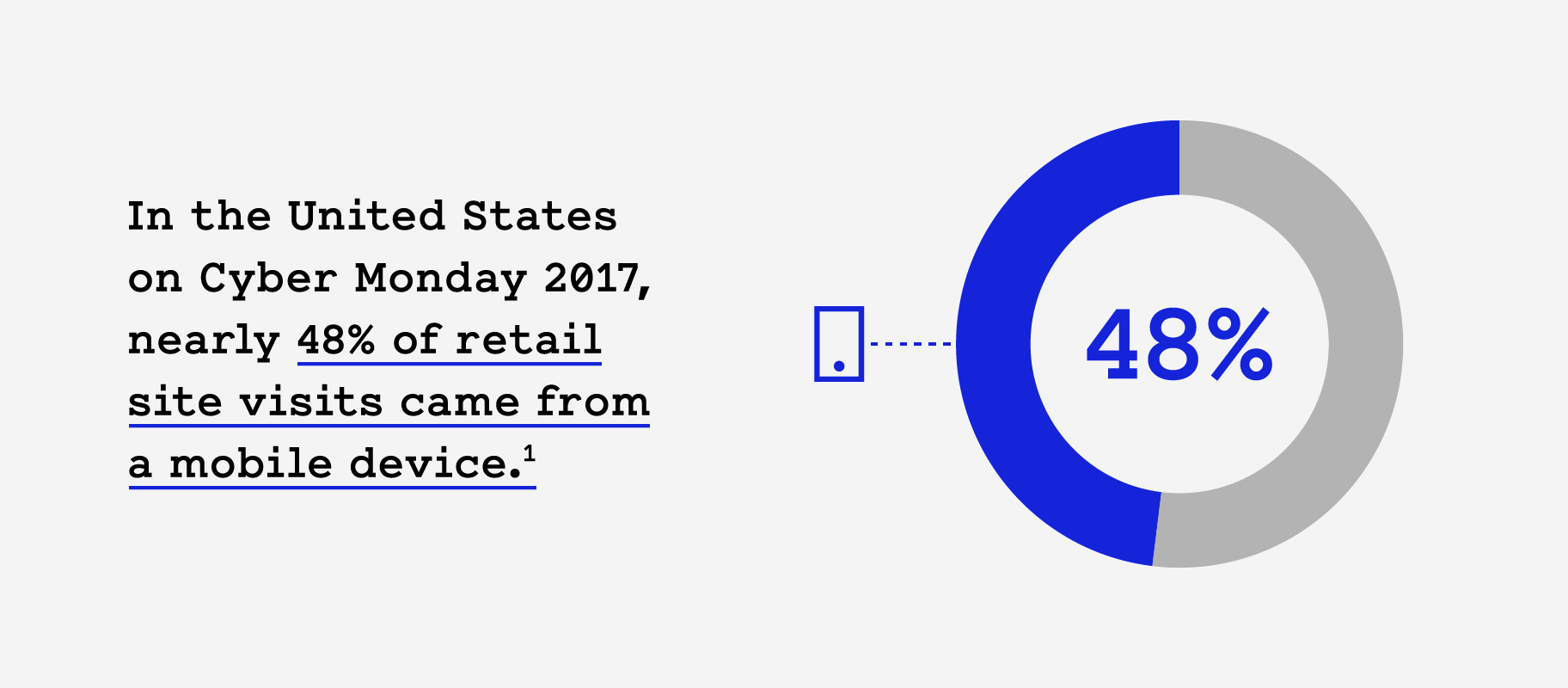 This has retailers asking whether they're prepared to meet customers' mobile demands. The first step is always mobile optimization -- but on its own, that may no longer be enough. Merchants must consider making mobile-first commerce solutions a key part of their core retail strategy by enhancing their mobile apps and prioritizing both digital wallets and security.
Here's a look at how industry-leading products from Braintree, which offers global payment solutions for merchants, can close the gap between what merchants need and what customers truly want to create a better mobile experience for all.
Building a better mobile app
Allied Market Research has predicted that the global mobile-payments market will grow by more than 33% through the year 2022 to reach $3,388 billion.4 Nearly 30% of consumers are already making in-store mobile payments, Deloitte reports.5 That's an increase of about 50% over 2016.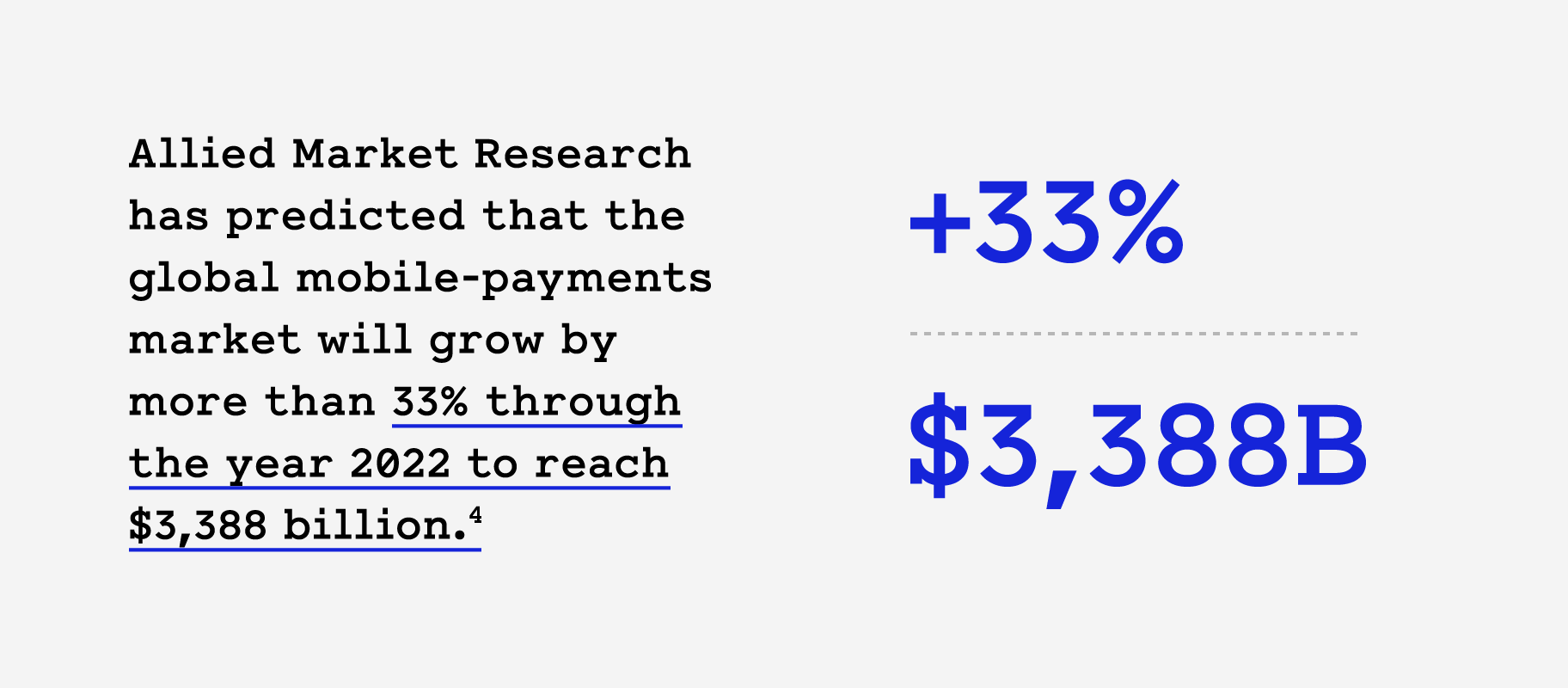 Made for utility, apps are the height of convenience -- consumers can use them wherever they go. And all the while, they're engaging with your company and immersed in your brand. Retailers know that apps have become a crucial part of the shopping journey, and are quickly realizing their true worth. Drawing on a survey of US-based small businesses and company managers, research firm Clutch recently found that 19% of small business owners believe mobile payment is the most valuable feature of a mobile app, second only to social integration (20%).6
Still, some merchants could stand to improve their app offering. A better app can help lead to greater brand recall, loyalty, and trust as well as help increase your transactions -- as evidenced by the recent leap in mobile purchases. Criteo's research shows that for European advertisers who invested in both the mobile web and shopping apps, app purchases accounted for 63% of their overall mobile sales. For merchants in North America, those who have a shopping app now generate 68% of all their transactions on mobile.
With Braintree's Drop-in UI, a customizable checkout for your mobile app, you can take full advantage of the app opportunity and start accepting payments seamlessly in no time. Mobile apps have the capacity to simplify shopping, streamline transactions, and benefit your brand, but they don't always deliver on consumers' expectations. What's more, today's shoppers have loaded their smartphones with dozens of apps, so improving yours with a checkout solution from a trusted provider -- and one that supports 23 different languages and 3D Secure verification -- will ensure it doesn't get lost in the crowd.
Adopt a digital wallet
Around the world, consumers are trying their hand at paying through different channels and in different ways. Without the technical barriers of the past, merchants can now add digital wallets to their in-app and mobile web checkouts for complete mobile payment functionality.
Global research from Zion Market Research shows that digital-wallet market share is expected to rise by about 32% from 2017 to 2022.7 A high volume of mobile commerce transactions, along with greater internet penetration and the increased use of smartphones, are responsible for this market's worldwide growth, the company says.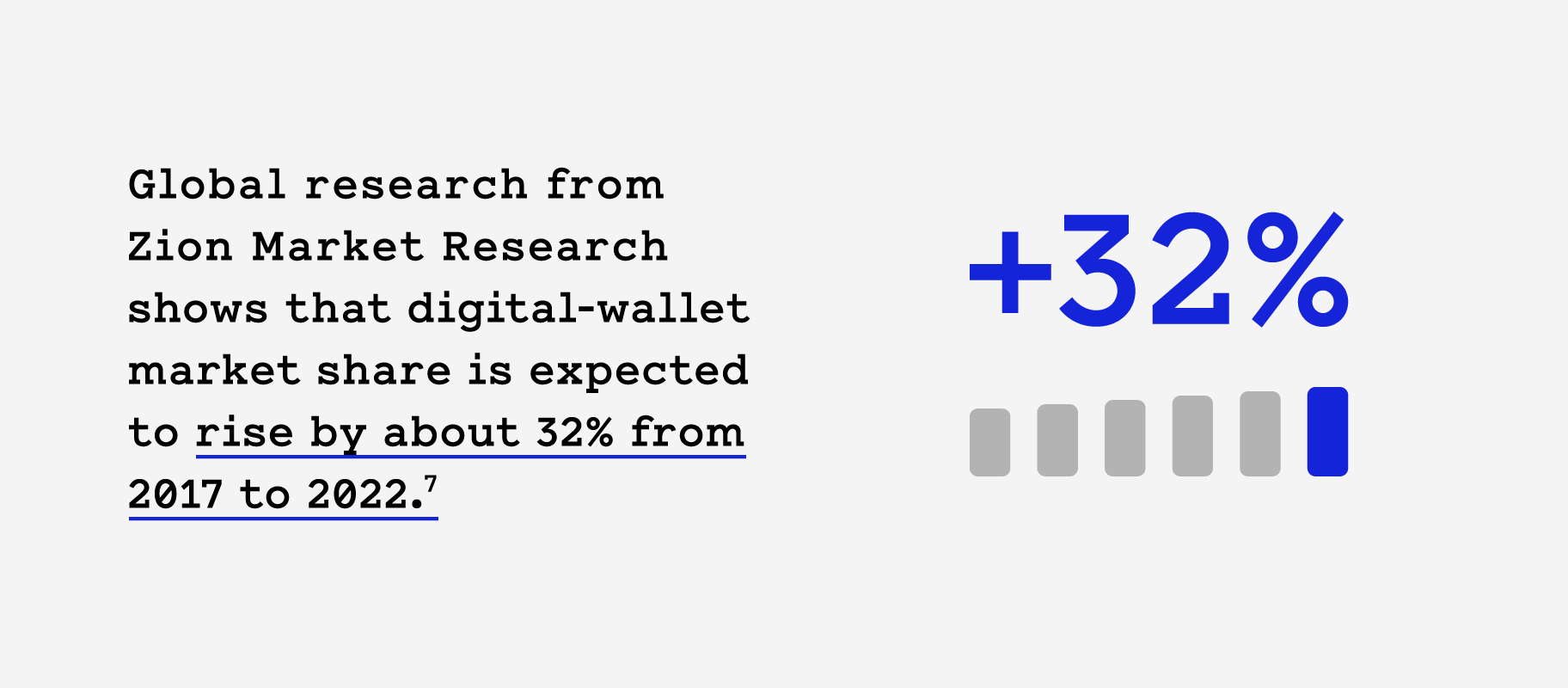 Having a digital wallet such as PayPal in place affords merchants the ability to implement added-value features like PayPal One Touch, which allows customers to make future purchases without having to re-enter login, shipping, and payment information when using the same device and same browser. Eliminating the need for re-entering passwords and helping speed up the checkout process can have a direct effect on your customers' future shopping behavior and help bring them back to your store time and time again. Digital wallets can also be effective at reducing operating costs, in large part due to lower payment-processing fees. Merchants generally pay a small rate per digital wallet transaction with no monthly fees, nor is there a minimum transaction processing amount. All of this can add up to a smart and scalable investment in your business, repeat visits, and a positive impact on overall retail revenue. Digital wallets let shoppers use their preferred method of payment without being exposed to a checkout process that's cluttered with superfluous options and steps -- and that helps lead to a frictionless, customer-centric shopping experience.
Prioritize security
In a recent Kount survey of merchants, more than a third of respondents said they consider managing fraud risk a top-three obstacle to increasing mobile adoption.8 Fear of fraud is common among merchants, and it's understandable: Research shows that for every dollar merchants in the US lost to fraudulent and unauthorized transactions in 2016, they had to pay out an average of $2.40.9 (That's taking into consideration chargebacks along with fees and restocking costs.)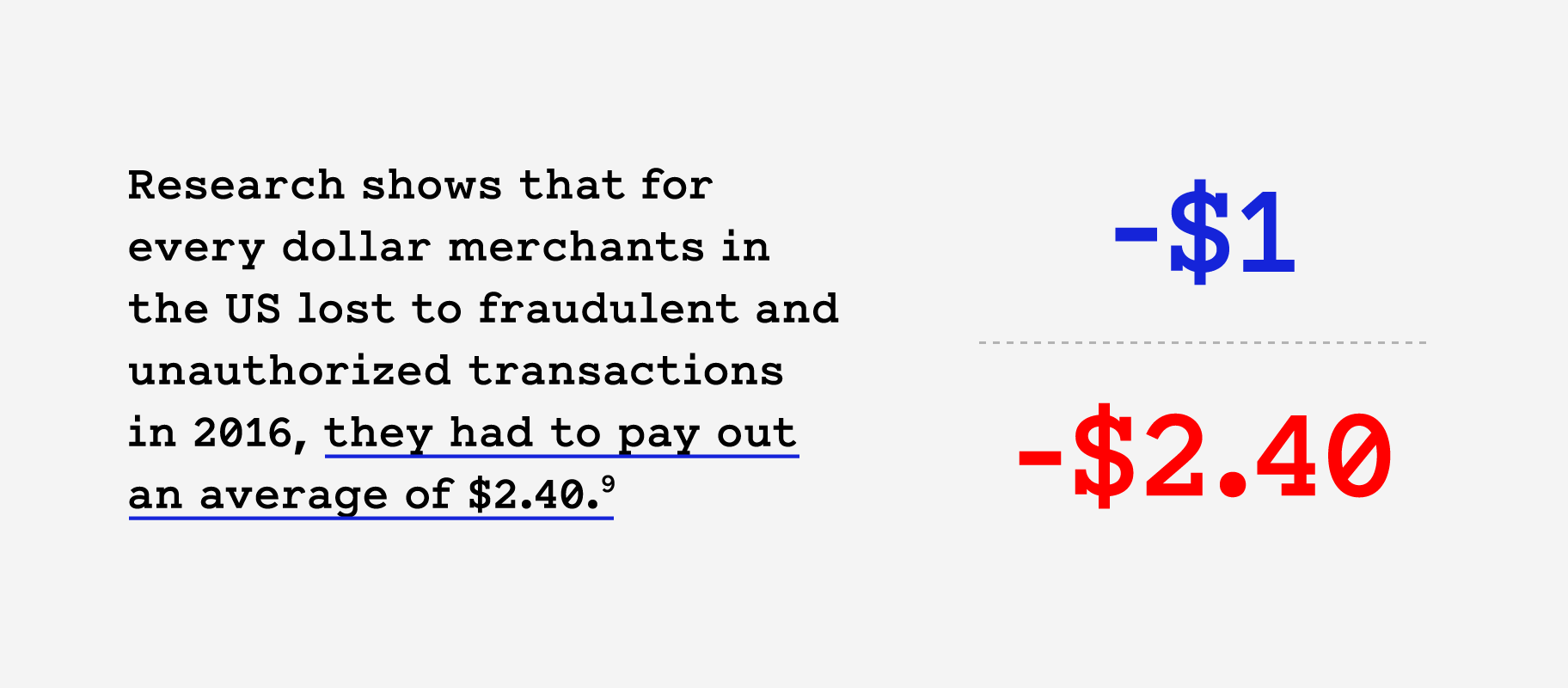 Digital wallets and mobile payments offer a solution to these concerns and risks. A good payments partner will allow merchants to vault customers' sensitive data while offering levels of authentication tools that can verify transactions to ensure that they're legitimate -- thereby helping to reduce the costs associated with fraudulent transactions.
When consumers know their data is secure, they can freely use their payment method of choice. They get to shift their focus from fear of mobile fraud to simply making the purchases they need to make, when and where it suits them best.
Thriving in a mobile-first world
The next stage of mobile optimization is all about satisfying consumers' evolving preferences, habits, and needs. That requires a mobile-first mentality and a commitment to mobile retail that goes beyond optimization alone. Enhanced mobile apps, payment solutions with integrated mobile functionality, and a heightened focus on security can help create a superior mobile shopping experience. They also help merchants to maximize the mobile retail opportunity.
Partnering with Braintree can help merchants meet the demands of mobile optimization, from seamless mobile checkouts with digital wallets to next-gen fraud prevention. Consumers are eager to shop on their mobile devices and make good use of the technology at hand, and their interest in mobile commerce is only expected to continue to grow.
Is your business growing along with it?
Sign up for our newsletter.