Resources
article
5 Ways Nonprofits and Charities Can Engage Millennial Donors
---
By now, most nonprofits are aware that initial reports about millennials being self-centered and disengaged are far from the truth. Instead research reveals -- and recent current events confirm -- that what is now the largest generation1 cares deeply about social and political issues and they're willing to dig in to help.
The sweeping 2016 Millennial Impact Report noted that 72% of millennials had volunteered in the past year, and 84% had made a donation to a nonprofit.2 They're interested in taking action and motivated to move the needle on what they care about. So the question for nonprofits isn't necessarily about whether millennials will engage, but instead how can you capture their attention and cultivate a relationship that lasts.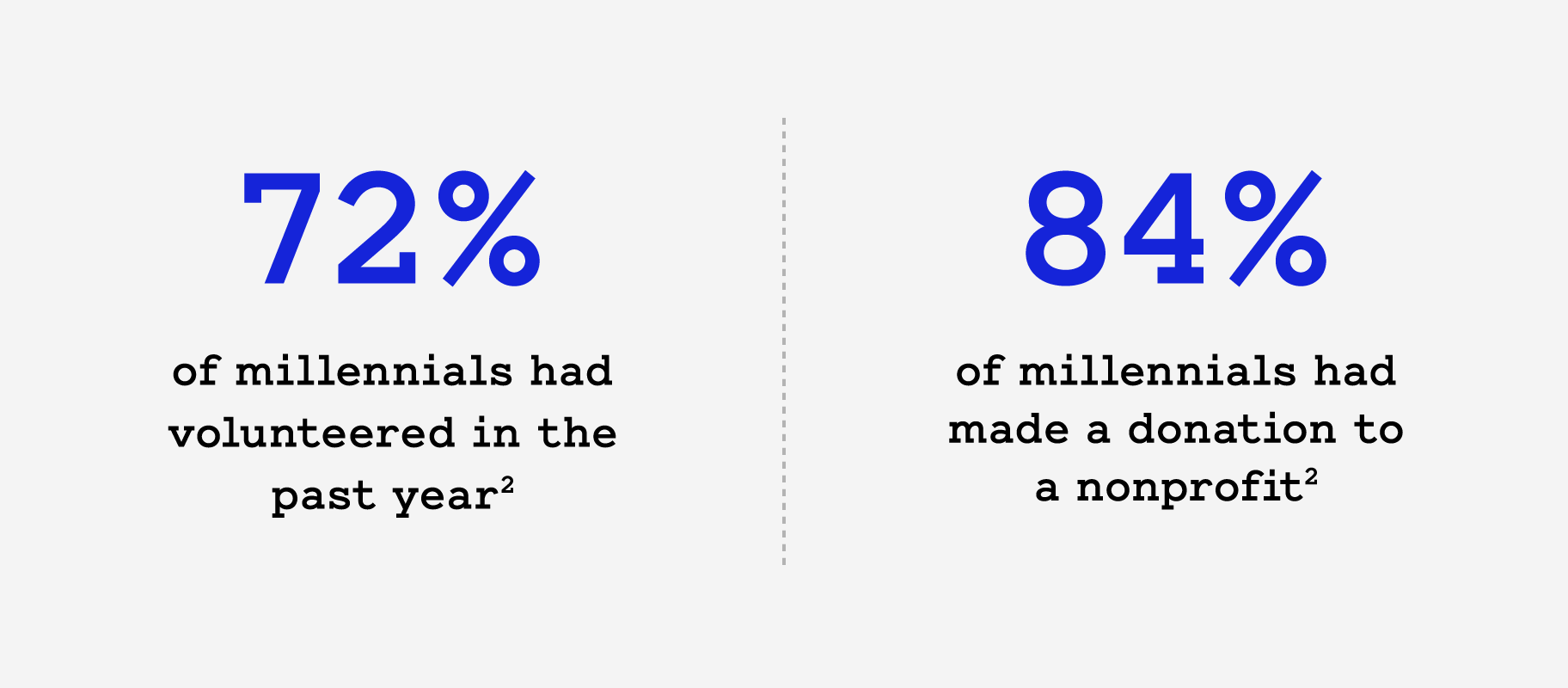 1. To get connected, do social -- but do it right
Social media plays an important role across generations, but that doesn't mean that every generation does social the same way. Millennials are active on many social networks, but some more than others. Even within a generation, usage by platform can vary. For example, 64% of people between the ages of 18 and 29 are on Instagram.3 And while most millennials may have a Facebook account, chances are they're more active and engaged on Snapchat and platforms geared specifically toward their peers.4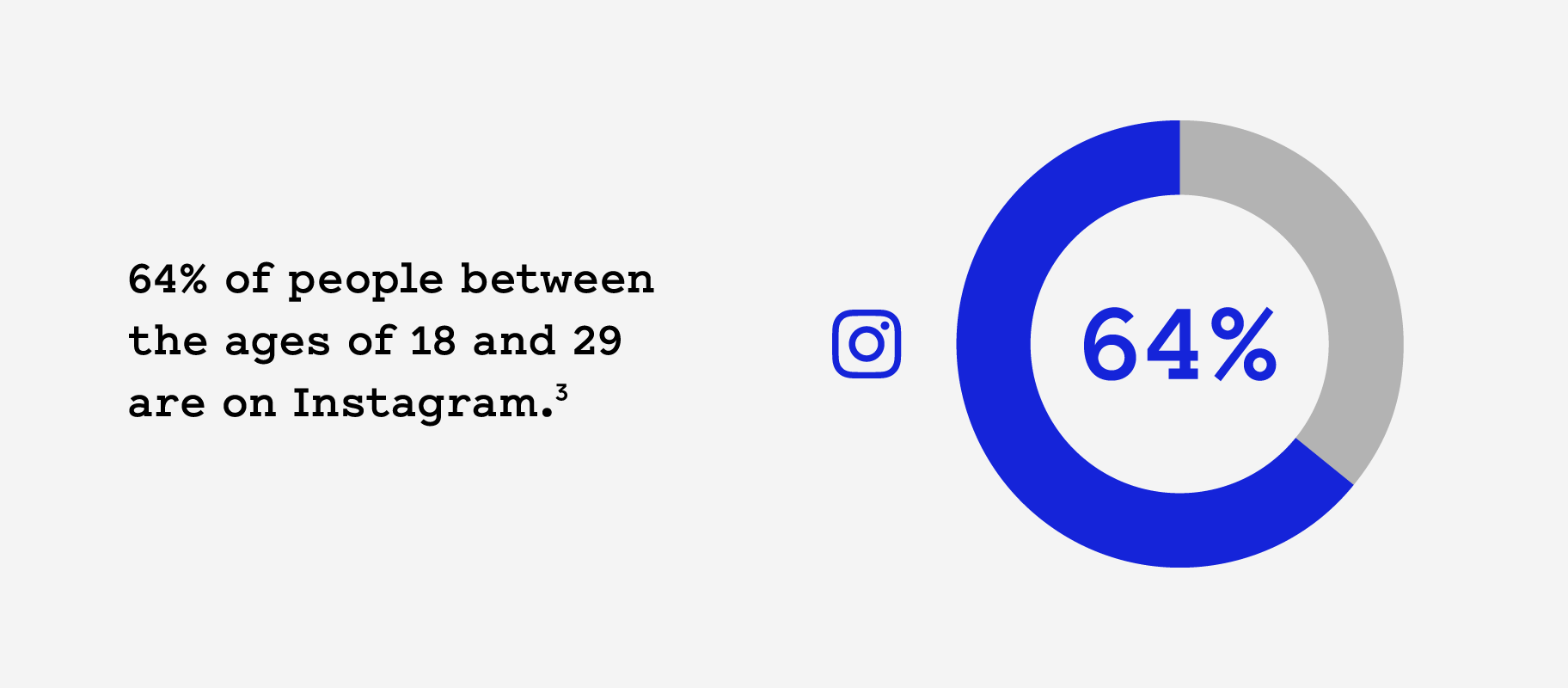 For nonprofits wanting to engage, the key is not just simply having a social media presence, but also understanding what type of social media millennials use and how. Consider, for instance, the popularity of Venmo as not just a payment app, but a social platform. Millennials use it to pay their friends, share their activity, and interact. Socially savvy nonprofits can participate in this social stream by providing Venmo as a way for millennials to make gifts and get recognition for their contributions. Braintree's Venmo integration makes this easy.
2. Meet millennials where they are -- on mobile
Millennials represent the most connected generation the world has ever seen. One recent report noted that nearly half of this generation looks at their mobile phones more than 50 times per day. This compares to 16% of baby boomers.5 In addition, more than half of millennials spend an average of three hours per day on their smartphones, while just a quarter of the boomer generation reports the same. The point? If your nonprofit isn't focused on mobile, you're missing out.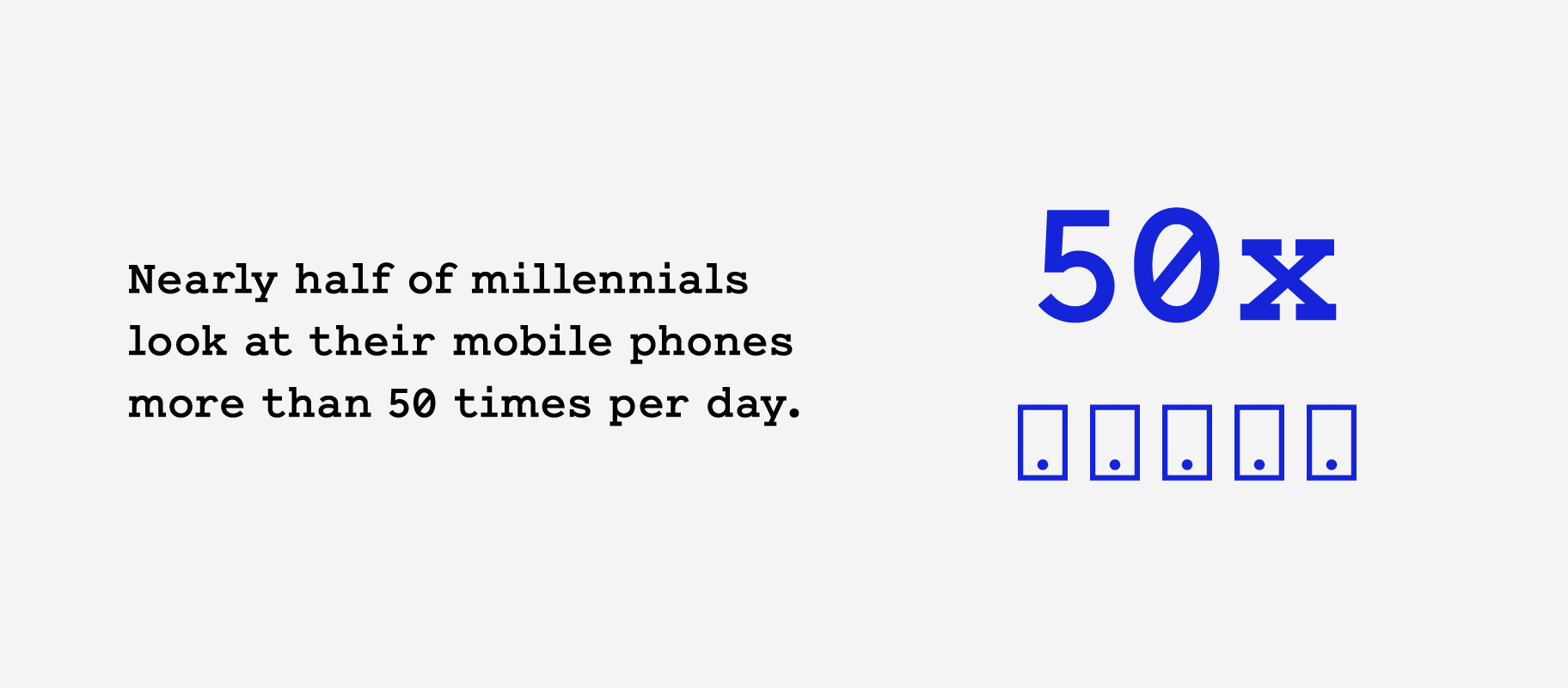 Nonprofits who want to engage a new generation of potential donors and supporters need to make mobile transactions as easy as possible. Braintree helped pioneer the mobile-payments movement, and we continue to take a mobile-first approach to all of our payment solutions. Our drop-in UI offers an easy way to offer secure mobile payments, and we provide SDKs for Android and IOS. The ultimate goal? Ensuring that mobile users can gift whenever and wherever the inspiration strikes them.
3. Prioritize trust, highlight security
As the first generation to grow up on the internet, it's not surprising that millennials are wise to security issues online. For instance, a new study shows that millennials are less trusting of online banking than their baby-boomer counterparts.6 The vast majority also distrust news they read on social media.7 That said, millennials are more apt to trust big brands with their online data.
So how does a nonprofit proceed? By prioritizing millennials' trust and highlighting the efforts your organization takes to secure their information. When it comes to donations, a system like Braintree provides a myriad of solutions. For instance, Braintree lets you offer PayPal and other trusted payment sources for donations and transactions. Research shows that PayPal is one of the most trusted payment methods that many consumers look for when completing a purchase. In the US, consumers trust PayPal more than many traditional financial brands including Capital One, Chase, Bank of America, and Wells Fargo.8
4. Humanize your cause and supporters
For nonprofits wanting to engage this younger generation, it's important to both personalize the stories you tell about your organization and make your supporters feel like part of the effort. Research notes that highly personalized communication aimed at some millennials can increase their brand loyalty.9 This applies to how you interact with younger donors off and online.
You can show that you understand millennial supporters by operating in ways that they're familiar with, such as providing payment methods that they prefer, and offering seamless, secure, mobile-friendly donation experiences. Your organization can go even further by tapping into contextual commerce opportunities that millennials not only want, but increasingly expect. Contextual commerce, powered by Braintree Extend, allows your nonprofit to align with social media and brand partners to create donation experiences on other platforms and even via offline events. You can, for example, highlight specific people who've benefited from your nonprofit -- or volunteers who make a big difference -- in a social media feed, and include a way to donate then and there.
5. Take a page from the crowdfunding playbook
The Pew Research Center reports that 30% of people ages 18 to 29, and 27% of people ages 30 to 49 have contributed to crowdfunding campaigns.10 The vast majority of donations were less than $50 and most were made via mobile devices. In the fundraising world, tapping into these microfunding efforts -- that is small, targeted donations -- can have big impact on your organization.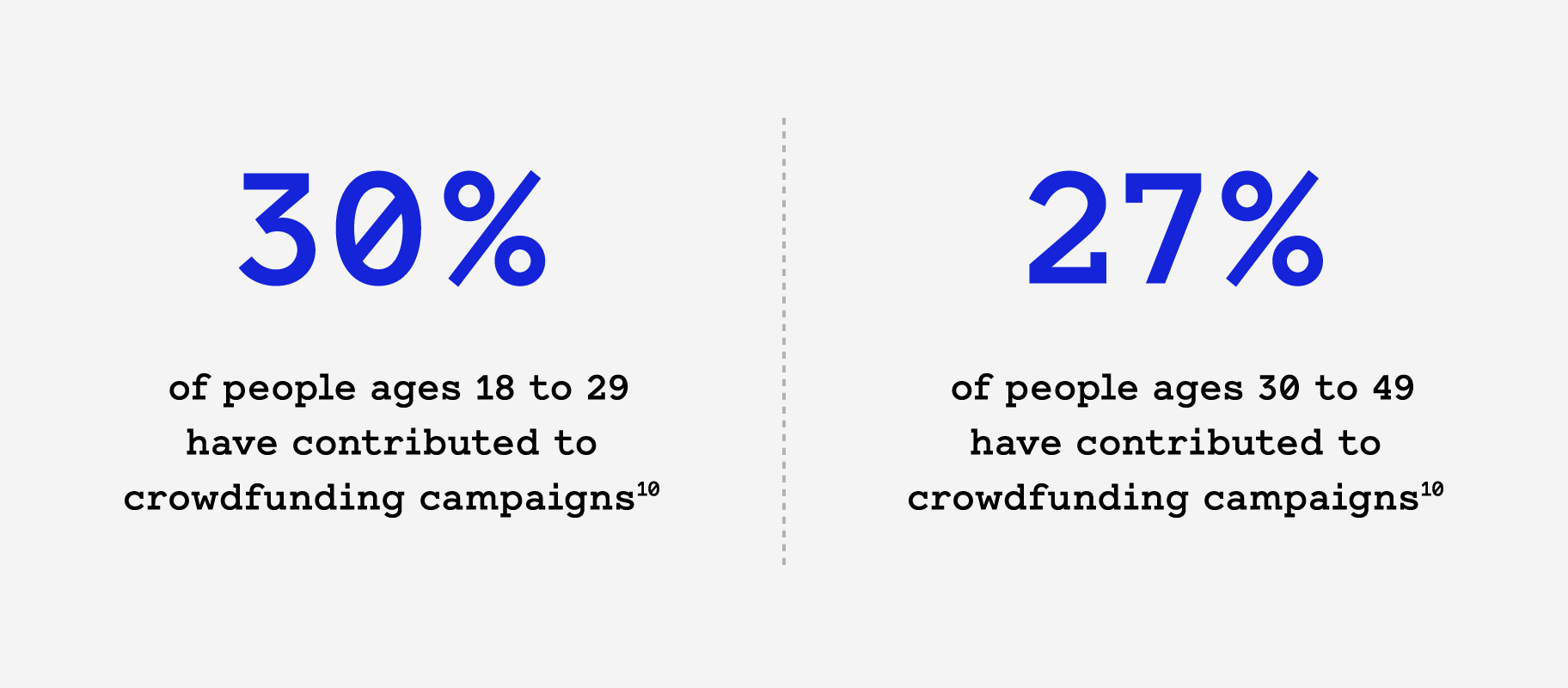 Make it simple for millennials to invest small amounts toward your cause. That can look like many things. For instance, with Braintree, donors can easily sign up for recurring payments. Ten dollars a month is an amount a lot of younger donors can wrap their heads -- and wallets -- around. Also incorporating PayPal One Touch into your payments process allows supporters to donate a small amount with a few clicks. For many nonprofits, all those clicks can add up to real money that furthers a cause.
With the largest generation coming into its own when it comes to supporting social causes, the future looks bright. Nonprofits that want to grow and thrive into their next era need to find ways to connect with millennials where they are -- online, on their mobile devices, and on social media. Make it easy for them to support your organization in these places and you can form relationships that last a lifetime.
Want to learn more about how Braintree can help your organization engage millennial donors and improve your donation flow?
Read the full whitepaper
Sign up for our newsletter.