For almost two decades now, PayPal has led the way by providing commerce solutions for merchants and consumers as commercial behavior has evolved. It started with the migration online in the late 90s, built momentum in the early 2000s with millions of Internet users buying and selling on e-commerce enabled stores and marketplaces, and has continued over the last several years with the explosion of mobile commerce.
Now we are seeing the next big change affecting the entire retail environment: merchants selling to consumers anywhere and everywhere online where consumers spend time and products are discovered. At Braintree, we strive to continuously future proof our merchants, partners and consumers through innovative commerce experiences. And today we are excited to introduce the next evolution: PayPal Commerce.
PayPal Commerce is the infrastructure that will enable retailers to deliver open, distributed commerce experiences that only PayPal and Braintree together can deliver. It provides services for partners to create a wide variety of contextual commerce experiences, and tools for retailers to reach and engage consumers beyond the boundaries of their web storefronts.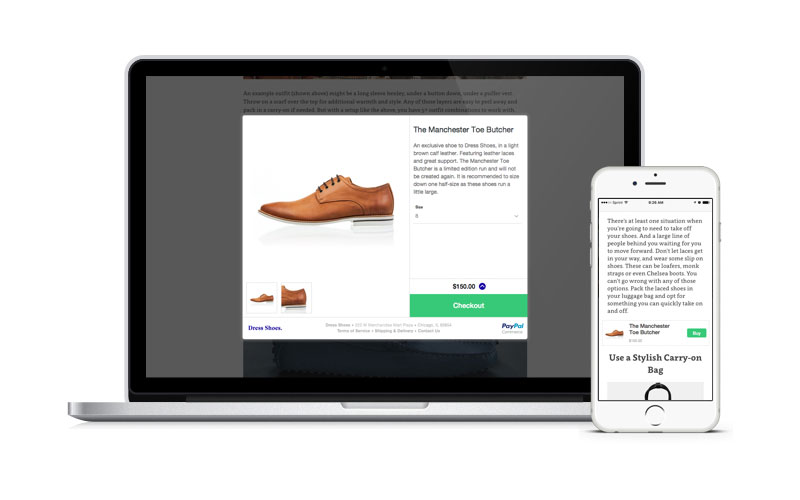 For retailers, the PayPal Commerce tools, currently in beta, allow them to securely sell wherever products are seen: email, social shares, blogs, articles, ads, in-page, in-app and anywhere consumers go online or on their mobile devices.
For our partners, PayPal Commerce supplies core API building blocks used in the development of their own innovative commercial applications for their users. Our earlier efforts in this area include last summer's announcement that Braintree was powering payments for Pinterest's launch of Buyable Pins. Later in the year, we followed up with the integration of Braintree's sophisticated tokenization offering into Facebook Messenger for the launch of its transportation services with Uber.
For consumers - continuing on from PayPal's origins - PayPal Commerce also aims to make buying online more convenient and seamless for its 179 million active users and beyond.
The past six months since the acquisition of Modest have been fun and focused. Our team has been deeply engaged in further developing this product portfolio and with PayPal Commerce, we are excited to be powering solutions for merchants today as they build the commerce of tomorrow.
Check out paypal.com/commerce for more information, and stay tuned for more exciting products coming from the PayPal Commerce team.