Today, we hear from Dan Lesser, one of our interns, about his experiences from this summer. This was the first year Braintree had multiple interns on both the product and operations teams and Dan has been working with our Risk & Underwriting Team.
1. Braintree isn't just a place in Massachusetts.
Before seeing the job post on my university's career portal, the only Braintree I'd ever heard of was the Massachusetts town I'd driven through a few times. Once I visited the website, I saw playful headshots of everyone in the company, regular blog posts from what seemed to be the only down-to-earth CEO in the country, and a K-9 unit on the Team page featuring Milo (Head of Cuddles) and realized that this Braintree place seemed worth getting to know better.
2. Shaping your own internship is an awesome opportunity.
Fast-forward to my second-round interview, (which really felt more like a conversation than an interview) with Takumi, the Head of Operations. He talked about the unparalleled opportunities for personal growth at a growing company like Braintree. He also talked about the unique opportunity to shape what would be the first formal 'internship program' at the company.
Takumi was right – I've been able to influence my own internship by working on a project that may influence the core of my team's most important process. All the members of my team have been kind enough to go outside their job descriptions, letting me sit second saddle as they review complex, multi-million dollar merchants. They're providing me with real-world examples of the financial concepts I learned in school.
3. Be excited every morning. Yes, really, it's possible.
What sold me on Braintree, though, was the startup energy and fast pace that I felt in the air the minute I first walked into the office. I love the fast pace, and I love knowing that each member of every team has a legitimate impact on the success of the company. In just over a month of my internship, the instructional materials I used to get up to speed at the beginning of the summer have become outdated – twice.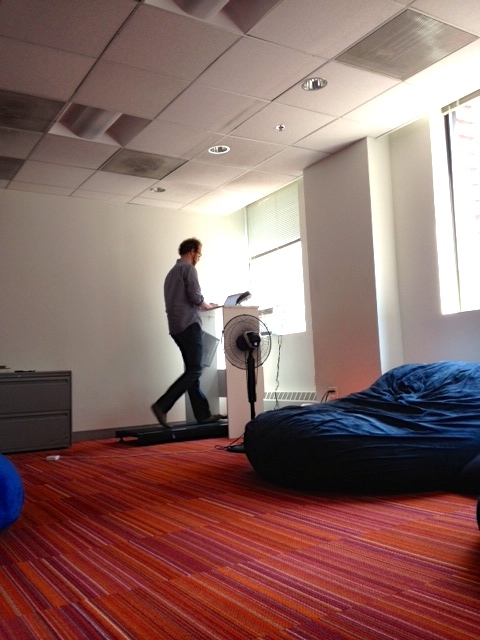 Matt walks and works. 
4. A whole new way to think about "team."
The Underwriting team (and me).
My team, the Underwriting team, reviews applications from merchants who want to use Braintree as their gateway or to accept credit cards. We look to determine creditworthiness as well as the risk of their business model. In addition to working closely together each and every day to vet merchants, my team also works in tandem with people from various other departments, making for a tight-knit and highly-collaborative work environment.
5. If you can, do Town Halls!
During my second week on the job was my first Town Hall. All offices of the company, including the Venmo office in New York, teleconference in every other week to ask questions of Bill Ready, the CEO. Here I was, second week at Braintree, 20 feet from the CEO – and with the right to ask him any question that came to mind!
For those of you reading this who found companies or end up in the C-Suite someday, I highly recommend instituting something similar to Braintree Town Halls. I can't think of a better way to keep everyone in the company apprised of all the important goings-on. Why read online an analyst's predictions of how Braintree will move forward when I could ask the CEO himself his plan for doing so?
6. Job-nirvana is at the intersection of ability and interest.
The work I'm doing at Braintree fits nicely with my academic background – I'm an Econ major and I get to work with financial statements and think about business model risk. I've realized that to be happy at work I need to genuinely enjoy the work, which may or may not correlate with how well the role draws on my capabilities. This may seem intuitive, but before Braintree I had never noticed myself taking a break from my work just to listen to the (work-related) conversations of people around me, not out of boredom, but out of fascination.
7. Perks are nice…
As an intern I've been privileged to receive all the standard perks of a junior-year internship: dinner, Cubs game, Six Flags, etc. It also doesn't hurt that Braintree provides a delicious catered lunch every single day of the week, and that I'm not expected to work outside of 9-5pm. And, no joke, I'm writing this post from a beanbag chair, just a few steps away from a ping pong table in one direction and a room full of hammock chairs in the other.
8. Devotion to people I like matters.
Honestly, what I've most enjoyed this summer so far is feeling that my place of work is more than just a way to earn a paycheck. Yeah, when I come in every morning I know there's a bunch of work waiting for me – this isn't a playground, after all. But it's also the same place where on Fridays a good chunk of the company chooses to hang around for hours after work. It's the same place that, if you talk to anyone at the company (or go on Glassdoor), is the best company they've ever worked for. And it's the same place that has gotten me excited to graduate from school, knowing that there are awesome companies out there like Braintree that I'll gladly devote a large chunk of my waking life to.
Ping pongin' with fellow intern, Jacob.