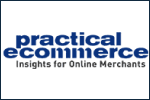 Our credit card processing and credit card storage solutions were recently reviewed by Armando Roggio at Practical Ecommerce. He gave us 4.5 out of 5 stars. Our favorite part, "Braintree is a no-brainer...". Here is an excerpt:
Without a safe, reliable means of processing payments, there would be no ecommerce. So it is not a surprise that managing payments and securing credit card and customer information is a major concern for online retailers.

Braintree Payment Solutions offers merchants a complete electronic payment service that quickly processes payments and keeps customer data secure, in most cases slashing a merchant's payment card industry (PCI) compliance costs by 90 percent or more, according to the company.

I was a little skeptical when I was first introduced to the Braintree solution, but after reviewing its products, asking about IP spoofing (a hacking tactic wherein the hacker pretends to be a server it is not), and consulting with an experienced developer friend, I find myself awarding Braintree Payment Solutions, four and a half out of a possible five stars in this, "The PeC Review," my weekly attempt to introduce you to products or services that have the potential to improve your ecommerce business.