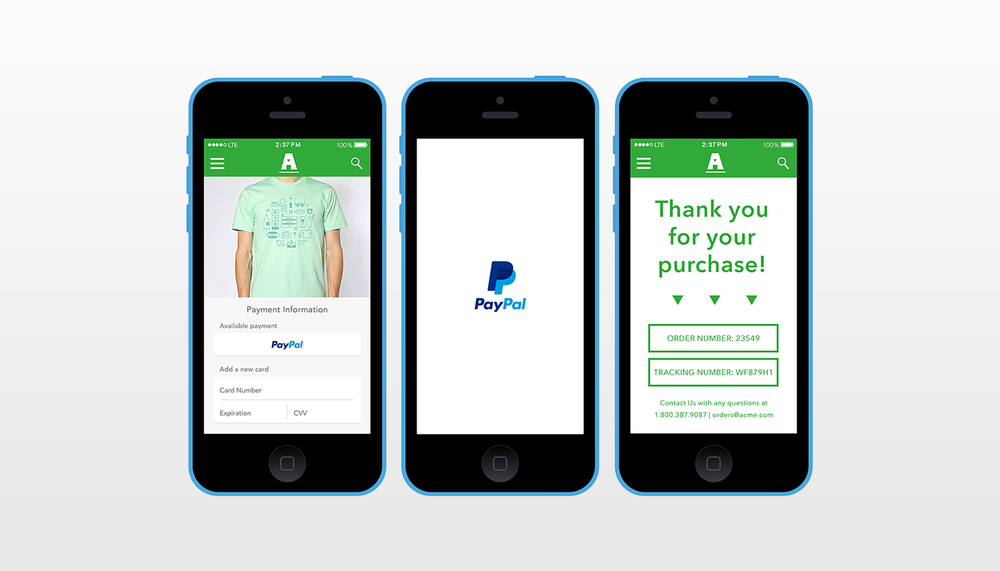 Together with PayPal, we're launching the absolute fastest way to pay on a mobile device, across platforms, for any app. With just a few lines of code, app developers will now be able to accept payments from millions of PayPal users… in one touch. Typing in and remembering userIDs, passwords and card numbers will quickly become a thing of the past as one touch payments will be the magical experience that customers expect, turning shoppers into buyers and app downloads into active users.

Starting today, One Touch™ PayPal payments are now open for beta with select merchant developers and will be available to all merchants using the Braintree v.zero SDK and all PayPal app users in the coming weeks.
Industry-First One Touch Buying Experience
When we launched Venmo Touch in 2013, we set our sights on eliminating one of the most common points of friction in a mobile commerce experience - typing in card numbers and passwords - while still maintaining a high level of security. Venmo Touch was an industry-first, one touch buying experience enabling consumers to pay across apps without having to log in -- even on the first purchase.
While we were considering becoming part of PayPal, one of the drivers was the opportunity to make this kind of frictionless buying available for hundreds of millions of consumers and many millions of merchants and developers. This will become increasingly important as consumers look to mobile devices as their primary computing devices and are demanding a more seamless buying experience. Despite more than half of all e-commerce shopping sessions coming from mobile devices, consumers convert or buy at a rate about two thirds less than desktop if checkout experiences aren't mobile optimized. One Touch payments with PayPal is a tremendous leap forward in arming developers and innovators with the ability to deliver the mobile buying experiences that consumers now expect.
Earlier this summer, we launched the Braintree v.zero SDK as the modern foundation for payments. We noted then that integrating v.zero would grow with merchants and be future-proofed for additional options to pay and the first way we're making good on that promise is by including one touch PayPal and Venmo payments for all v.zero developers. We believe that the move to mobile demands a better buying experience and we're fully committed to arming you with the tools you need to compete in this highly competitive and fast-paced mobile era. And we're just getting started.
Seamless and Secure – You Can Have it All
Traditionally in payments, there's been a tradeoff between convenience and security, but we believe mobile provides the opportunity to rethink that premise. We started with a new premise that the mobile device inherently can offer both a better experience and better security than the plastic card in your wallet. After all, which one knows more about the validity of a user -- the high-powered mobile computing devices they carry in their pocket or the magnetic stripe on the back of the cards in their wallet?
We've designed this one touch payments experience from the ground up to take advantage of the security features of the mobile device and combined that with PayPal's industry-leading security and fraud protection. For example, mobile phones allow us to detect unusual activity in real-time and confirm with the user, before they've left that transaction. That's better protection from fraudsters than exists today and also easier for users that previously might have had to call into a card issuer to reactivate a card that had suspicious activity. Legitimate users still buy seamlessly, but you, the merchant, are getting better fraud protection at the same time.
While we're making One Touch PayPal payments available in beta in the US today, we will be moving to general availability next month. When we do, all US businesses that have implemented the Braintree v.zero SDK will have automatic access to the one touch experience on both iOS and Android. If you'd like to see a demo, please check out our docs and let us know if you'd like access to the beta by contacting us at one_touch@braintreepayments.com.