At Braintree we live and breathe our culture. Now that we've opened offices throughout the world, we're thinking about ways we can keep our culture consistent, even though we're thousands of miles apart. Because 99designs has done this so well, we asked them to share their tips on how they've maintained their culture throughout their expansions.
Guest post by: Lauren Gard, Marketing at 99designs
In the Silicon Valley startup scene that's home to 99designs' U.S. headquarters, it's rare to find a company that doesn't claim to put a ton of emphasis on fostering a vibrant and unique company culture. But what does that mean?
At 99designs, it doesn't just mean building a team of people who think and act alike - who all enjoy yanking the tap on the kegerator in our kitchen during Friday happy hours, are keen to join our regular pushup sessions at the back of the office, can tell a good joke in a meeting and get their work done on schedule. And we don't just look for "passion" or a "work-hard, play-hard" mentality - phrases that are all too easy to toss around but at the end of the day don't signify much. We're all passionate. We all work hard, and many of us might say we play hard, too (or sing hard, as a recent karaoke outing proved).
To understand our culture is to understand our history. 99designs, the world's largest online graphic design marketplace, was founded in Melbourne in 2008, opened offices in San Francisco in 2010, and in the past year has planted roots in Berlin, Paris and London while also launching sites in a number of other languages and bringing in dozens of new team members. Our internationally bred culture is dynamic, not only in that it's infused with relentless energy, but that it's always changing - and for the better. Picture a completed jigsaw puzzle in which each piece is complementary and each piece fits together. As each new 99designs' team member comes on board, they fit neatly into the puzzle as it expands to create a more complex - and exciting - image. How do we make this happen?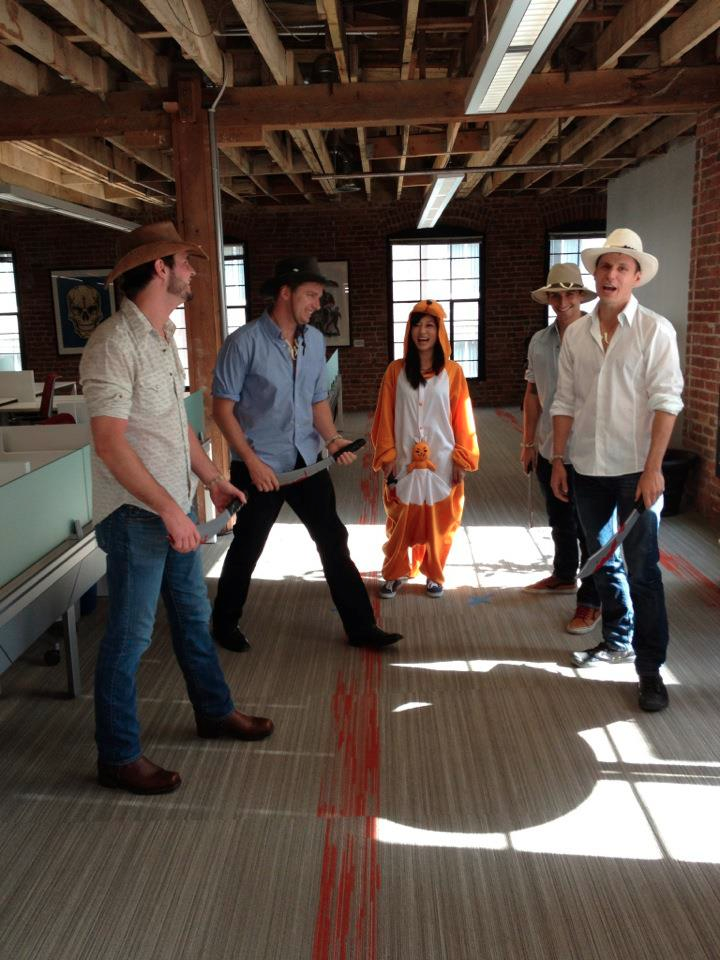 Dressed Crocodile Dundee-style to compete against other startups in a "Pushup Charity" event - we won and donated $6,000 to DonorsChoose.org!
We eschew hierarchy - This doesn't simply mean our CEO sits at a simple white desk just like everyone else's in the same wide-open office. It means all team members are not only encouraged but expected to have a say in pretty much everything the company does - and that their voices are actually heard. Sure, we all have specific roles we're brought on board to do, but the implicit understanding is 99designs' management team empowers, rather than "manages," employees. As a result, people who come to 99designs stay.
Employees use their skills and interests to contribute across the company, whether giving feedback on any aspect of our offerings or internal operations, running fun contests for our community of more than 200,000 designers (some of the music fiends in our crew ran a Daft Punk poster design contest in advance of the band's latest album and just launched a Kanye West album cover design contest for his soon-to-launch album Yeezus, for instance), attending conferences, and finding other ways to leverage their talents.
We like each other. Really.
We don't just start and stop over beer, chips and guacamole at our weekly in-office happy hours. We're encouraged to spend time together on a regular basis - though we don't need much encouragement. Through activities like the aforementioned push-ups many of us do (and often giggle through) three times a week, to field trips to local arts-related venues, volunteer activities, cross-departmental meetings, monthly birthday celebrations, international work exchanges and annual 3-day Christmas parties, we come to know and respect one another.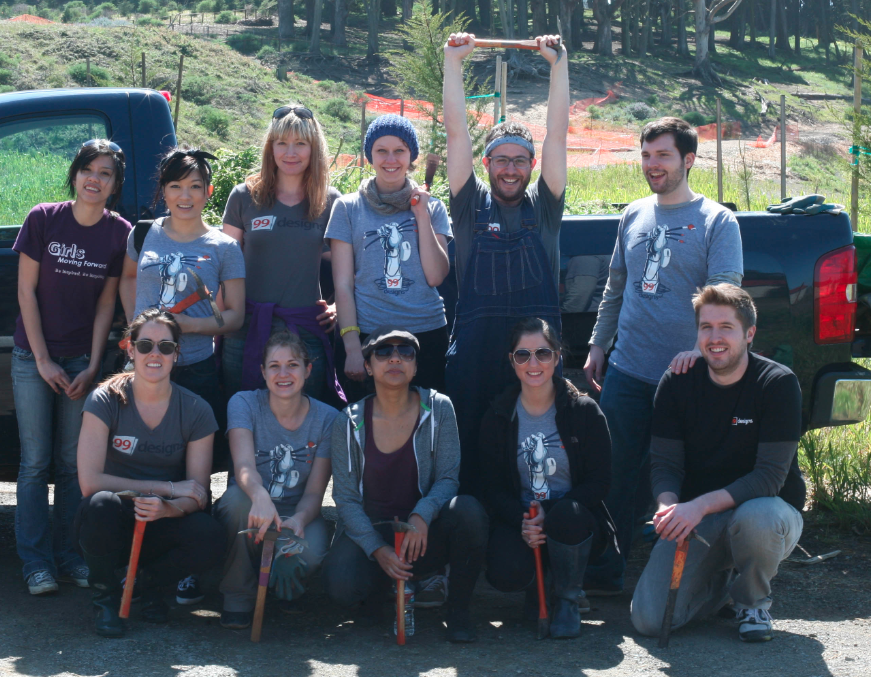 99designs staffers volunteering at The Presidio in San Francisco on a sunny Saturday
We recognize work well done. Staffers nominate their colleagues for our 99er of the Month award, and nominees as well as the winner are called out during one of our weekly all-hands meetings. In a company of more than 80 employees, a couple dozen are typically recognized each month for going above and beyond the call of duty. While only one employee walks away with a cherished bobble-head statue (bearing the grinning face of our good-natured CEO), this activity provides the kind of feel-good moments that go a long way in making everyone feel valued. On a day-to-day basis, colleagues highlight one another's accomplishments via Yammer, the internal social networking tool we use. 99designs' team may be spread around the world, but at any given time we're all aware of who is doing what and who is doing it particularly well.
We are transparent and trusting. The entire team knows how the company is doing and where we aim to go - there are no Big Secrets at 99designs. In-office monitors that track our daily progress and candid monthly progress meetings go a long way in forging a team in which every individual feels looped-in - and responsible for personally helping to build a world-class organization.
We don't rush to hire. We don't just look for employees who can carry out their job descriptions better than anyone else on the planet - we need people who fit perfectly into the 99designs puzzle, and bring something new. Numerous employees have a say in the hiring process, and this shows. Those who join 99designs share a desire to not only help grow a company, but to also grow personally as they do. They tend to work as intensely as they laugh, place a premium on kindness, know how to give and take constructive criticism, don't mind doing their own dishes when the dishwasher is full, have an active life beyond the office, and are damn smart. We realize these kinds of folks aren't always easy to find and we're fine with that - because if they were, 99designs might just be like any other company.