Lunchtime at Braintree can consist of going out to Piece, our favorite pizza joint in the city, watching an episode of Big Bang Theory or 30 Rock, or a lunch-and-learn. When it was my turn to do a lunch-and-learn, I decided to do a Hacker Makeover with Patrick, one of our best (Patrick's addition) developer guys.
Why did I pick Patrick? He is a single dude that could use a bit of freshening up. His wardrobe before the makeover consisted of an old cap, a Woot or Threadless t-shirt, pants or shorts with way more pockets than anyone but a carpenter would need, and a pair of white tennis shoes.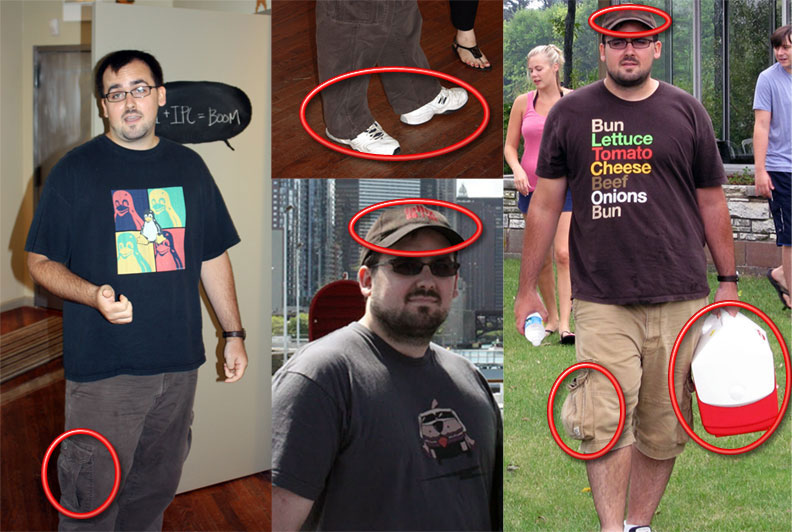 (Comment from Rob on our sales team: "Who carries a water cooler as an accessory?")
The goals:
Utilize Patrick's current wardrobe, specifically his collection of funny t-shirts
Change out carpenter pants for jeans that can be casual or dressed up
Get shoes that have more personality and can be used for various occasions
Find seasonal layers for the upcoming winter in Chicago
Ditch the hat!
I wanted to show Patrick that adding some key items like nice jeans and shoes would make a huge difference. I also wanted to show him that he could continue to wear all those cheeseburger t-shirts that he loves so much.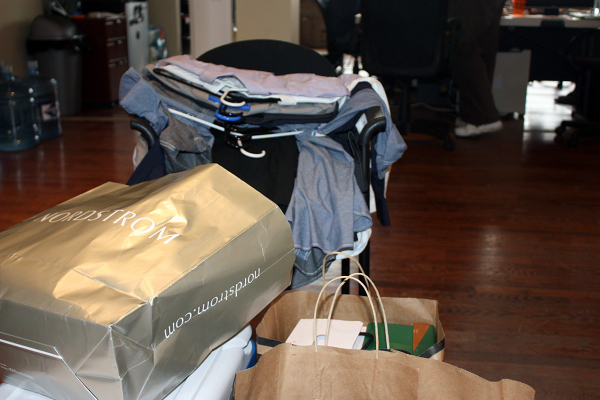 (The Goods--we got a lot of stuff in two trips after work)
The first outfit. The goal here was to look casual but also a bit more put together than just a t-shirt and baggy pants with lots of pockets. He is wearing one of his existing t-shirts and we added a pair of dark Levi's, a hoodie and a nice pair of shoes.

(T-shirt from Target, Levi's from Macy's on clearance for $25, shoes from Aldo for $89, hoodie from Macy's on sale for $25)
The second outfit. Patrick is wearing the same outfit as above, but it's dressed up with a sweater and brown dress shoes. Note that Patrick wears brown shoes with dark blue tones for contrast. Don't wear black shoes with this outfit!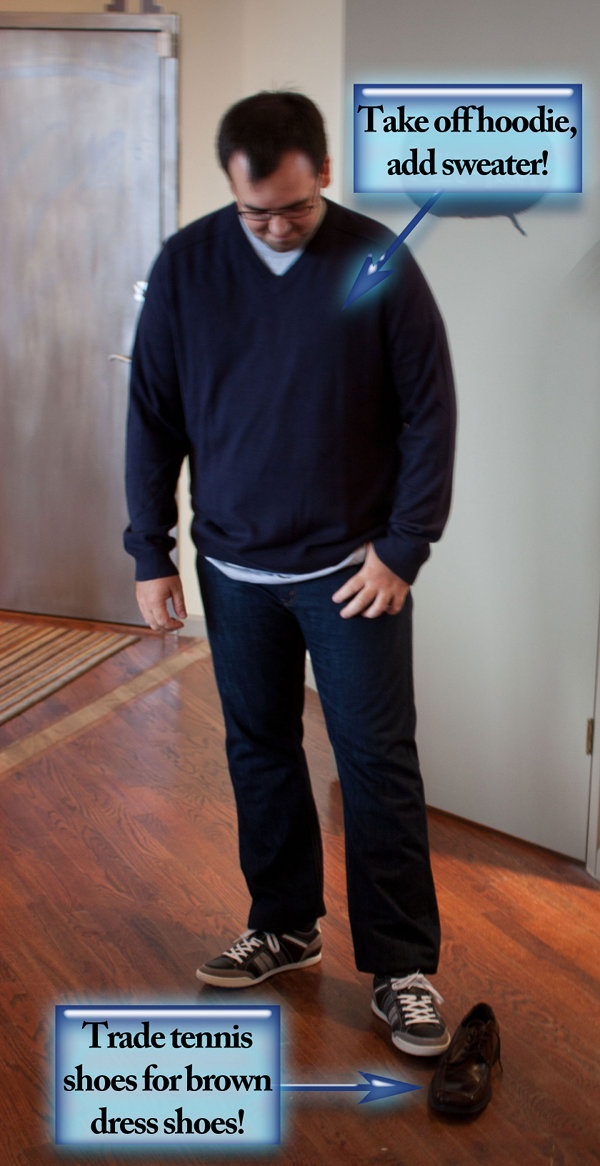 (Sweater from Nordstrom on sale for $70, shoes from DSW for $59)
The third outfit. Patrick is still wearing the same jeans but he traded out his sweater for a button-down shirt from Lacoste. You can wear this unbuttoned or button up and use the t-shirt as an undershirt.
(Lacoste button-down shirt from Nordstrom for $88)
The fourth outfit. Patrick layers the sweater from before over the button-down shirt. It's more dressy, but he leaves the button-down shirt untucked for a day look.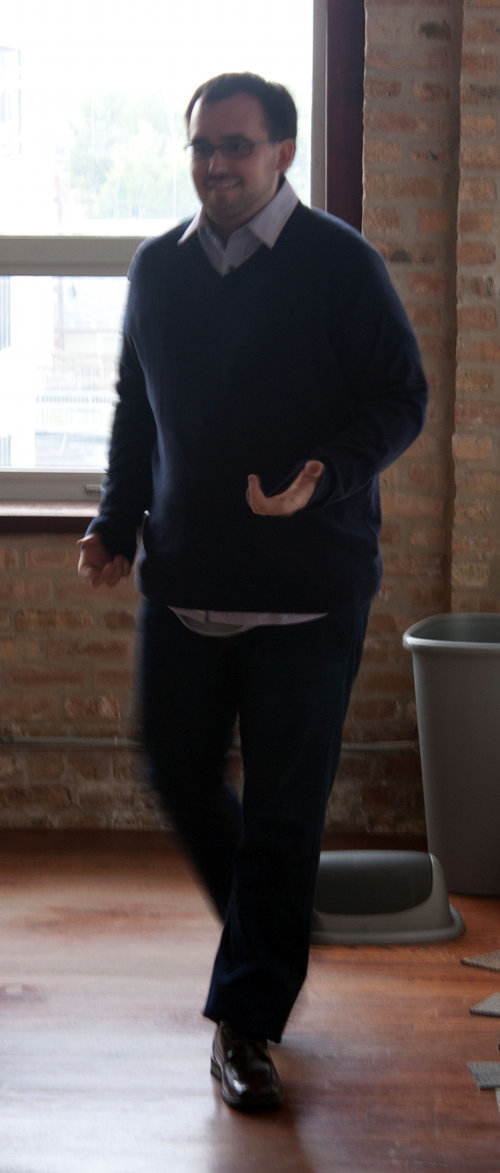 The fifth outfit. This look is completely different from the ones above. Patrick has a different t-shirt, different jeans, different button-down shirt, and different tennis shoes, but the concepts are the same! Paul is checking out the quality of Patrick's trendy Joe's Jeans. They were a bit pricey, but you can't go wrong with a nice pair of jeans.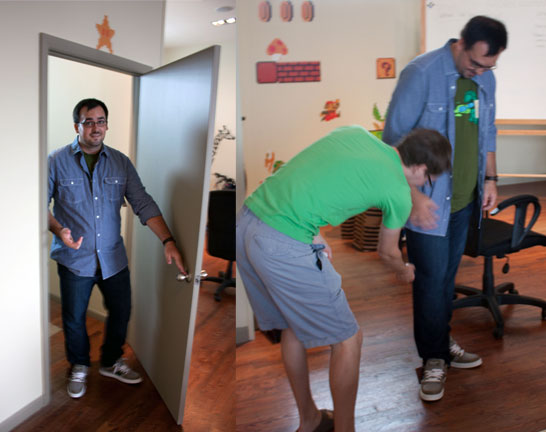 (T-shirt from Patrick's closet, button-down shirt from Macy's for $48, Joe's Jeans from Nordstrom for $169, Penguin shoes from DSW for $78 (they reminded him of Tux from the first picture, so he really liked them))
The sixth outfit. Patrick layers a light v-neck sweater over his t-shirt. He can still ride his bike to work in this since it's not made of heavy materials. Also, Patrick is wearing gray pants.
(Long sleeve v-neck from Macy's for $40)
The seventh outfit. Patrick layers a white button-down shirt over this outfit for a completely different look.(Comment from Rob on our sales team: "Nobody talks about Patrick's momma.")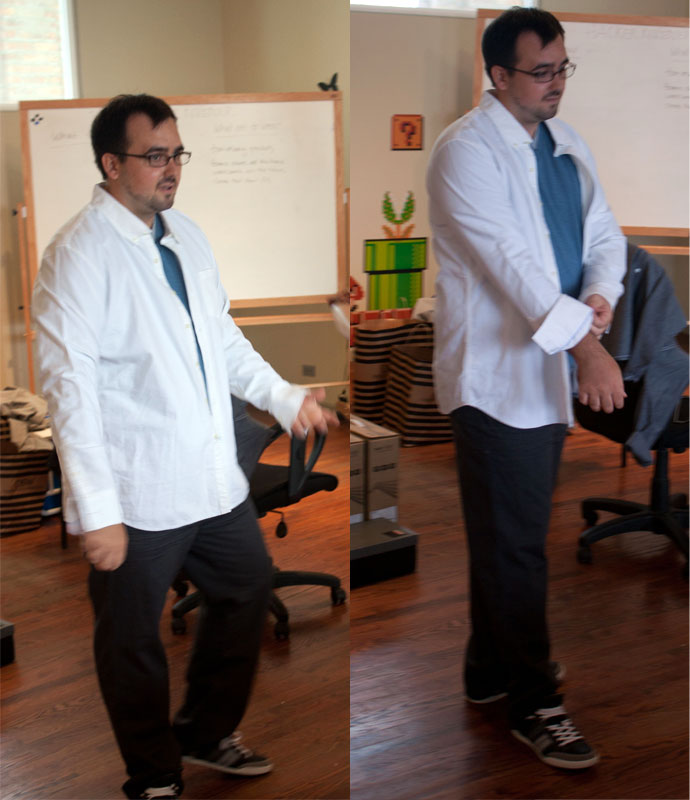 (Long sleeve button-down from Nordstrom $68)
The eighth outfit. Patrick is wearing black pants, black dress shoes, and a nice black turtleneck pullover. He has a button-down shirt underneath for a sharp look perfect for going out or a date.
(Turtleneck pullover from Nordstrom for $68, shoes from DSW for $59)
Patrick ended up with 3 new pairs of jeans, 2 pairs of dress pants, 5 button downs, 2 sweaters, and 4 pairs of shoes. Everything he purchased were things he picked out himself, with my help. After the first trip it didn't take much to convince him to buy stuff! The only bad thing: he still hasn't thrown out the hat!