Updated September 29, 2016
In September of 2013, we announced that we were being acquired by PayPal. We promised that our vision for the future of payments and white glove service would not change, and that our goal to provide easy access to all the payments tools needed to build beautiful, innovative commerce experiences would be bolstered by us joining PayPal. By keeping this commitment at the core of everything we do, we've been able to drive growth and innovation while ensuring our merchants' needs are top of mind.
Today, we are happy to share another significant milestone in the Braintree story. In the three years since we were acquired, we've seen the number of payment transactions on the Braintree platform grow more than 25x, measured from Q2 2013 to Q2 2016 1. This includes the many payment methods merchants can process through the Braintree platform, including PayPal, as Braintree is now the preferred integration for merchants to accept PayPal.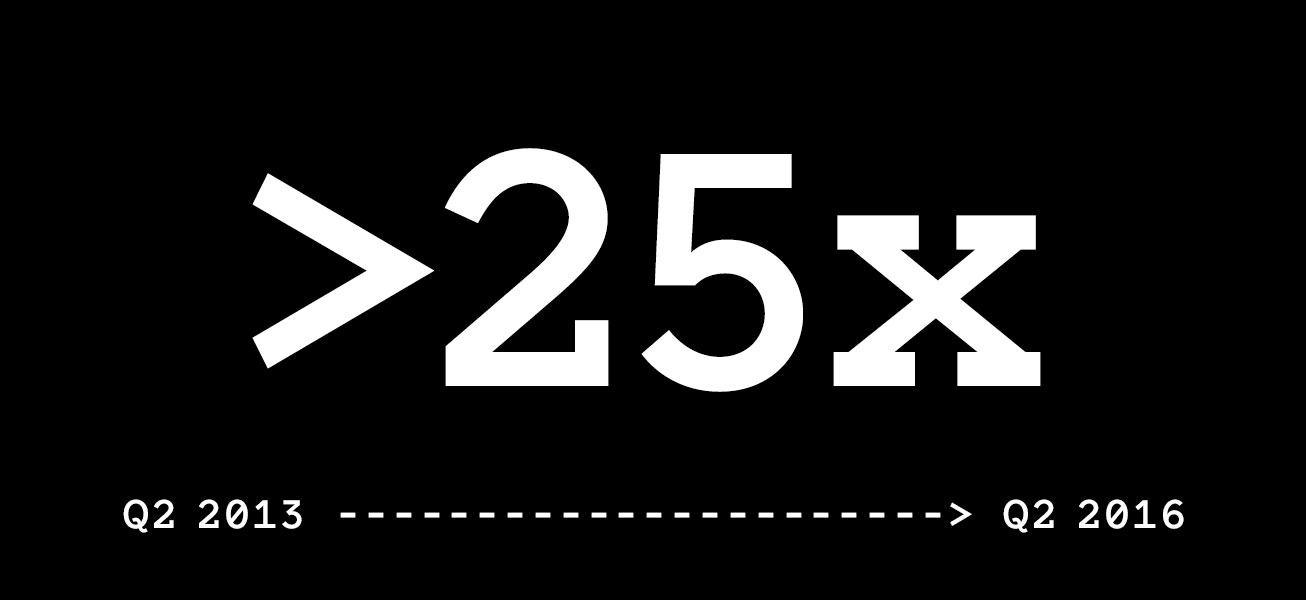 From our early days, we've had a vision for what commerce could be and continue to take every step necessary to bring this vision to life. Innovation in e-commerce and mobile commerce happens when merchants and consumers are given unique new ways to connect. PayPal's vast global network combined with Braintree's platform allows us to deliver experiences that only we can offer together. This includes industry-first products such as PayPal OneTouch™, Braintree Auth, and leading the way in contextual commerce with PayPal Commerce -- each with the goal of making commerce easier, better, and more frictionless for everyone.
While there is a lot that we can attribute this transaction growth milestone to, there are a few accomplishments in particular that stand out:
In addition to working with many new merchants, partners, and innovators, we see many of the businesses that we proudly support continue to grow tremendously, reminding us why our work is so important.
We recently added new, innovative payment methods such as Venmo, Apple Pay on the web, PayPal Credit, and UnionPay, as part of our commitment to letting merchants accept any way their customers want to pay. Adding Venmo as a payment method was particularly exciting because we were able to turn a product already loved by millions, into a way for users to pay merchants as easily as they pay their friends -- with the same social benefits that Venmo is known for.
We teamed up with some of the biggest names across mobile, social, and commerce including Pinterest -- enabling their Buyable Pins experience -- and Facebook Messenger, for whom, as a launch partner, we are helping to power their in-message commerce, such as ordering an Uber or Lyft and buying tickets on Ticketmaster and Eventbrite.
After our successful acquisition of Modest, we launched our contextual commerce offering, PayPal Commerce -- allowing merchants to securely sell wherever their products are seen, wherever their customers are.
We launched the Braintree commerce infrastructure tools to deliver richer commerce experiences by enabling secure B2B payment sharing in and out of our network.
While this explosive growth is something we are incredibly excited about, we know that there is much more to come. We're fortunate to work with some of the most innovative platforms in e-commerce. Our merchants have and will always be our primary driving force, and we look forward to continuously supporting their growth for many years to come.
Number of Payment Transactions: The total number of payments, net of payment reversals, successfully completed through our Payments Platform, excluding transactions processed through our gateway products. ↩