A story of random internet connections becoming something much, much more....
We came across Abril's piggybackr campaign for an organization called "Chicago Girls in Computing" a few months back. After reading Abril's story and objectives, we fell in love. And we knew Braintree had to be her very first corporate sponsor! Recently, months after the initial connection, we talked to Abril about how her journey to encourage young women to stay involved with technology started and how it's evolving. Since falling in love with the group during that initial campaign, Braintree has hosted team building exercises, facilitated a movie and discussion and provided whatever possible to help these women succeed in their quest.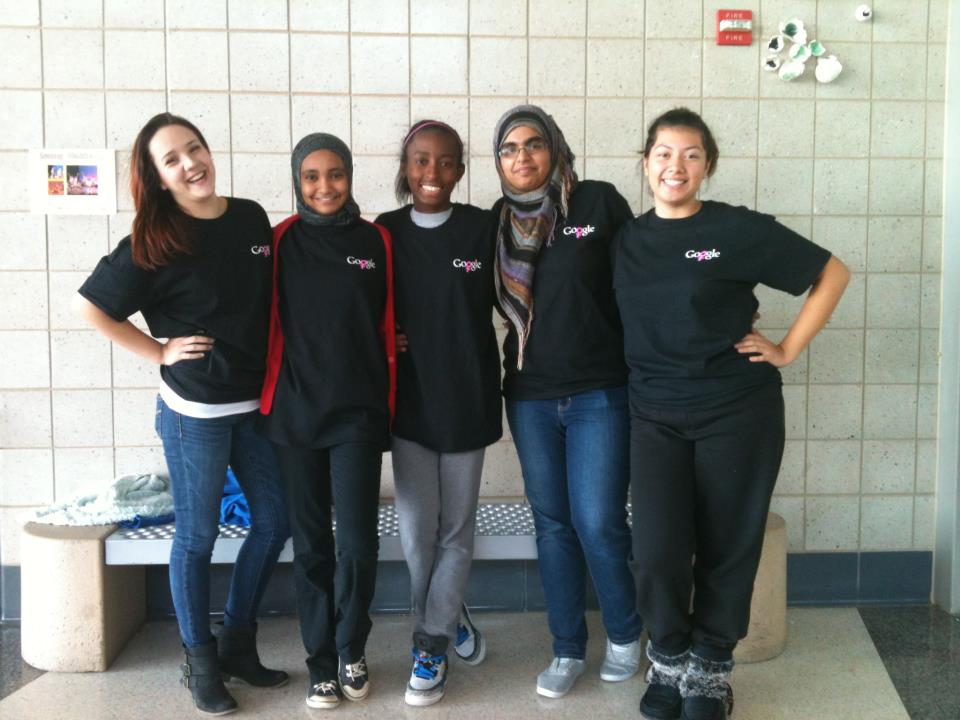 Chicago Girls in Computing
More about the cause: Chicago Girls in Computing strives to provide a friendly environment for high school girls in Chicago who are and/or wish to become more involved with technology. This is done through monthly meetings, where members are given the chance to meet each other, exchange stories, and share experiences. Additionally, at these meetings, we typically have guest speakers who are professionals in the field of technology. This, alongside donated space, provides the girls with an opportunity to network as well as explore technology spaces around the city. Chicago Girls in Computing also strives to bring education to our members. With donated instruction time from individuals, CGC will host classes for our members at no cost. These classes will range from programming to robotics. All in all, Chicago Girls in Computing wants to encourage more girls to become involved with computing and support them on their journey as they explore the world of technology.
BT: So…how did all of this happen?
Abril: I'd been talking with one of my instructors about doing a program where we could help people learn to program. I wanted to specifically help young girls. We came up with the idea of a support group for girls where they could learn to program and explore other technology concepts.
Why didn't you approach your school itself about providing resources?
We went outside of school budgets and resources because we want this to be city-wide in order to be present in schools both private and public.
How did so many people feel about it? What were your original goals and how did they change over time?
I reached out to my resources and once we started posting it on facebook and twitter we had a couple of people message us. People rushed to donate. On twitter, even before we reached out, people started to contact us. There was momentum. Piggybackr tracks page views and the majority of traction came from social networking websites.
What has come out of this experience beyond financial means to begin the program?
Braintree has given us access to spaces and speakers. We're even having a movie night coming up to expand the program. We just went to Dev Boot Camp and had the opportunity to speak with Gail Chapman, the co-author of Exploring Computer Science.
How many people are involved in the group right now?
There are around 40 members in the group and then a good 5-10 of those are some adults and college students who are active mentors. The majority are from our school but some are from other schools around the city. We started the group towards the end of the school year so when the school year starts we can definitely have more momentum.
What's surprised you about this experience?
The amount of people who supported us, and the variety of fields that the support came from.
What are the biggest lessons you've learned so far?
I've learned there is a need for this, specifically in Chicago, and that people are eager to support us. It's important to keep putting ourselves out there. People need this and if you keep working hard at it you'll eventually become successful. You can make a difference.
Care to learn more about Abril and her crew? Check them out and root them on via Facebook at https://www.facebook.com/ChicagoGirlsInComputing and on Twitter at @ChiGirlsComp.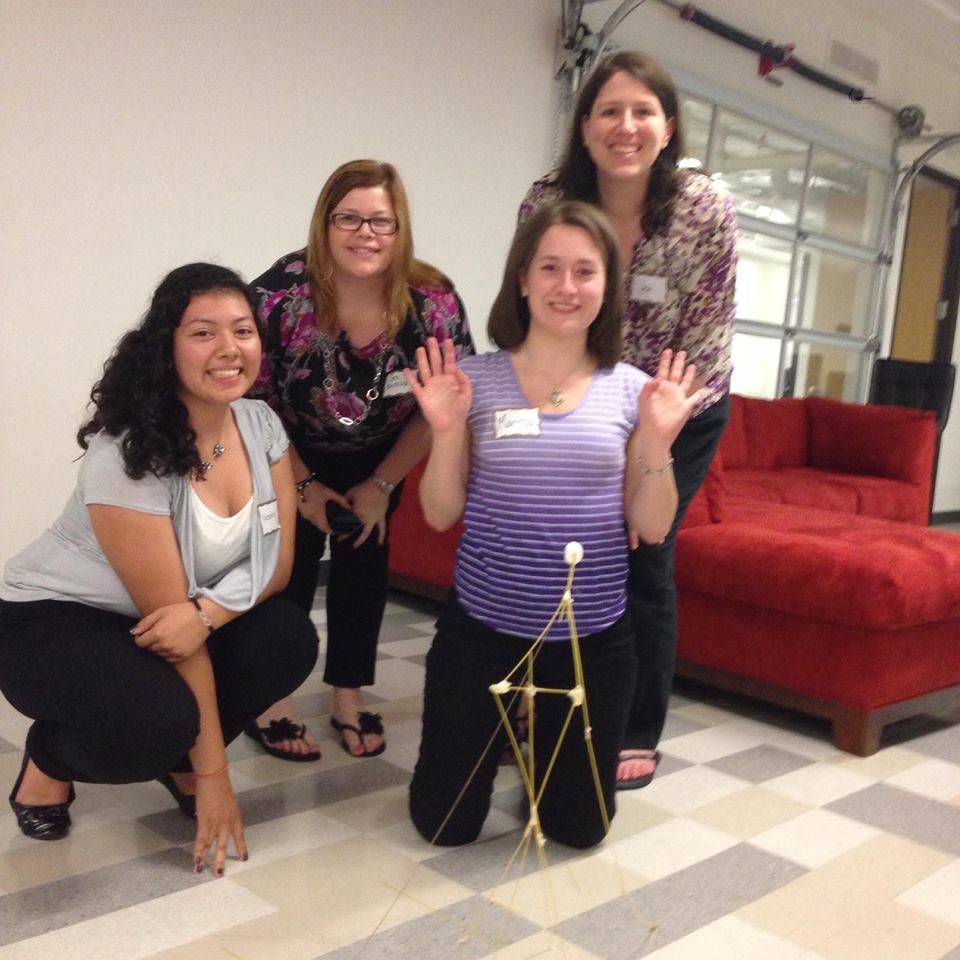 A recent meet-up in our office allowed the Girls in Computing to team up with some of us for the famous "Marshmallow Challenge."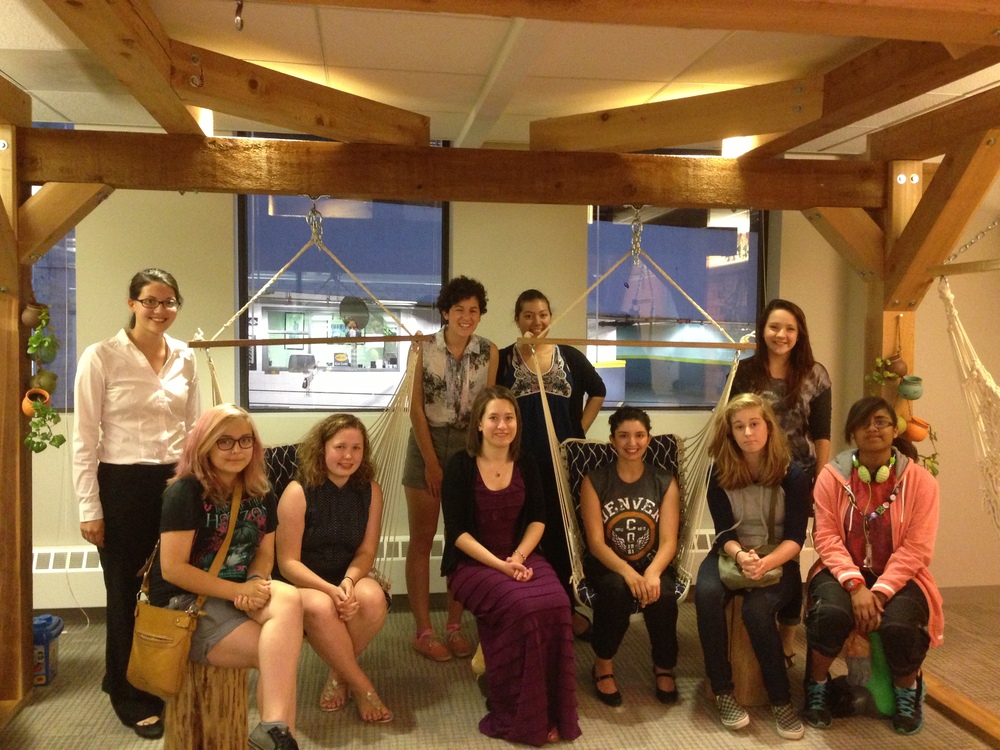 The group hangs out in the treehouse after a screening of Miss Representation alongside some women at Braintree. There was also falafel.