Braintree's API is a powerful tool for our customers. It delivers great simplicity coupled with a deep feature set, allowing our customers to grow with Braintree as their business grows and their processing needs inevitably becomes more complex. However, I feel like we are not doing a good enough job of introducing the API in its simplest form to new developers. I have therefore been working on a new Getting Started Guide to help bridge this gap between a Braintree API newbie and processing your first transaction.
Having identified this gap, I started by researching other well respected API's to pick up any patterns and best practices that we could utilize to make the Braintree Guide the very best experience possible. The Guide will be released shortly, we are entering a testing phase now, but I wanted to share the results and conclusions of my research, and to also solicit any feedback from the community on the great and the not-so-much API document experiences developers have encountered.
Best Practices
Programmable Web is a great resource to stay on top of the the API space, and they had a good article about best practices, with a very informative diagram: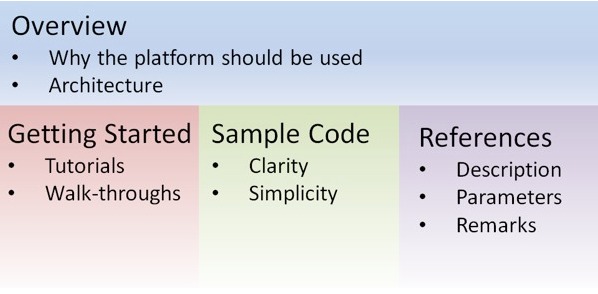 This highlighted what we already knew, we were missing the Overview and Getting Started sections.
Over the course of the resulting research, I arrived at the following 4 conclusions:
You can also find a great list of API documents on Mark Phllips' GitHub - https://github.com/PharkMillups/beautiful-docs. I hope our documentation improvements over the coming months will win us a place on this list!
I also found this article on Documentation Usability to be very informative, and something to which I am constantly referring.
Please leave a comment and let me know of any other best practices, anti-patterns or documentation examples you enjoyed or otherwise.